We understand you may have a few questions about our upcoming name change to BNK Bank, so we've put together a summary of why we are doing it and what you can expect.
Why are we making the change?
Changing our name to BNK was driven by our desire to implement a digital strategy to make banking easier and simpler for our customers and to develop a national offering.
We are in the final stages of developing our enhanced core banking platform which, once completed, will deliver a more seamless experience across our banking services and mobile app.
What does the new logo look like?
We've gone for something simple but modern. We hope you like it!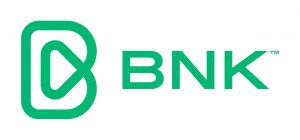 What does this mean for you?
Rest assured that whilst the branding will change, you will receive the same great service that Goldfields Money was founded on.
Over the next few weeks, you will begin to see some BNK items whilst we transition to the new branding. We'll also be keeping you up to date of all the latest developments, including a sneak peak of what you can expect when we switch over to our new BNK branding.
When will it take place?
From May 2021, we will begin the process of phasing out the Goldfields Money brand and replacing it with BNK Bank.
Will anything change?
We will be revamping all of our banking platforms, including our personal and online banking portals, as well as our mobile app.
Delegated users on business accounts will also be issued a new customer number as we make upgrades to our digital banking system.
Are there new services being offered?
When we first change over to our new brand, you will still receive the same great services you have now, but with our new banking platform in place we will be looking to continually enhance and evolve our service to ensure you are still getting the best service possible from us.
When the brand changes, where do I go for all of my banking?
Instead of our Goldfields Money website, you will simply need to visit our brand new BNK website (www.bnk.com.au). You'll also need to download the BNK app from either the Google Play or App Store when it becomes available.
Will you be kept up to date?
We are excited to share this journey with you and will be keeping you updated along the way! If you have any questions or would like to know more, you can email us at info@goldfieldsmoney.com.au or call us on 1300 GO 4 GOLD (1300 464 465).