We get it, life can be hectic and you want banking services which keep up with you, wherever you are, whatever the time.
Who are Goldfields Money? We're the little company that could, the plucky regional credit union who grew into a national, straight-talking, digitally savvy alternative to traditional banking in Australia. We are the new approach to traditional financial services, we're honest, with transparent banking practices and a straightforward approach to you and your money. It's all yours, honestly.
We've had some awesome projects come to fruition this year which make managing your money with us simple. We've replaced our core banking system with the latest, state-of-the-art advancements in banking technology. Think of core banking systems as the beating heart of every banking institution. Some core banking systems currently operating out there are now over 30 years old and layered with patches and workarounds as new technology has evolved, such as; online banking, smartphones, and data security. The replacement of our core banking system makes us better than we were before. Better, stronger, faster.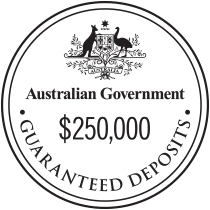 Goldfields Money are also a registered ADI (Authorised Deposit-Taking Institution) just like the 'big 4' banks. See the official looking logo? It means deposits are guaranteed by the Australian Government for up to $250,000 per customer, including business accounts.  Your money is safe and secure with us! You can read more about it
From everyday savings and investment accounts, to home loans, personal loans and business accounts, Goldfields Money has uncomplicated banking products to suit your situation, we get you.
Goldfields Money is ASX listed
We're an Australian Securities Exchange listed financial institution with all the security of a bank. And just like banks, Goldfields Money is regulated by APRA (Australian Prudential Regulation Authority).
Better still, you have all the trust and confidence of over 35 years of financial product expertise behind Goldfields Money. When it comes to the smart and secure digital online banking services, Goldfields Money have got your back.